FEATURED WOMEN FOR 2018
Ellen Berliner and Anne Steytler— Women's Center & Shelter of Greater Pittsburgh was founded by Ellen Berliner and Anne Steytler, at a time when the entire concept of "domestic violence" had yet to gain any mainstream recognition. Soon after opening its doors in 1974, they discovered that nearly half of the women who came to them had been beaten or abused by their partners.
The focus of the organization quickly shifted to offer emergency shelter for women and their children, with Berliner and Steytler even housing victims in their own homes. Women's Center & Shelter would become one of the first six shelters for intimate partner violence in the nation, making tremendous strides in spreading awareness and aid for victims in the Pittsburgh area and at large
Lois Weber (June 13, 1879 – November 13, 1939) was an American silent film actress, screenwriter, producer, and director, who is considered "the most important female director the American film industry has known", and "one of the most important and prolific film directors in the era of silent films
Yvonne Campos – is the founding CEO of market research and strategy firm, Campos Inc, a nationally recognized focus group moderator, facilitator and consultant. Under her leadership, Campos Inc, founded in 1986, became the premier research company in the Pittsburgh market by introducing new and innovative research techniques and consumer trend analysis. She is the founder of two Pittsburgh chapters of the Women Presidents' Organization, a peer-to-peer learning model for women-owned businesses with revenues over one million dollars.
Campos is extremely involved in the Pittsburgh area including sitting on several boards. Her positions include serving as the Chairman of Goodwill of Southwestern Pennsylvania since April 2013. She serves as Vice Chairman at WQED Multimedia. Ms. Campos serves as a Director of Highmark Blue Cross Blue Shield (Highmark Inc), and in the past, and has served as a Director of Pittsburgh Financial Corp. since 2001.
Campos is also one of the founders of the Next Act Fund. Next Act Fund is an opportunity for women to be involved in the angel investment community with other like-minded women. As a part of Next Act, women are given a seat at the table where the economic growth of the Pittsburgh region is decided, and at the same time heighten the impact of women-owned /led businesses. Next Act Fund works together to create opportunities and jobs for others.
Betty Davis an American funk and soul singer. She is known as one of the most influential voices of the funk era and a performer who was known for her memorable live shows. Documentary about her was shown at August Wilson
Dr. JoAnn Evansgardner (1925-2010) and the Pittsburgh Chapter of the National Organization for Women (NOW), formed their own press – KNOW, Inc. Through this, they published the first articles and reprints of the fledgling women's studies movement. In 1994, she led a campaign to eliminate racism in the feminist movement. Her husband, Gerald Gardner (1926-2009), also was a strong feminist and support her whole-heartedly.
Yona Harvey – one of only 2 African American women who write for Marvel Comics
STORM COMES TO HARLEM! Misty Knight continues investigating how and why Ezra Keith, a Harlem community pillar and civil rights activist, died in police custody, now with the help of one of Ezra's former protégés, STORM of the X-Men. The two women soon discover that the neighborhood is under siege by a threat much bigger than they'd imagined…but luckily, help arrives in the form of a friend from Storm's past. Black Panther And The Crew (2017)
Dorothy Height was born in Richmond, Virginia, moving shortly thereafter to Rankin (March 24, 1912-April 20, 2010). Her first brush with activism came when she was just 11 years old, when she worked to integrate the Rankin Christian Center's swimming pool. She helped organize the 1963 March on Washington. She was a longtime president of the National Council of Negro Women (1957-1997), and helped found the National Women's Political Caucus. She attempted to attend Barnard College, but they refused her, as they had met their quota of two Black women. She was known for saying, "If the time is not ripe, we have to ripen the time."
Gertrude Watson Jacobs was born (December 15, 1921-June 2, 2009) in Pensacola, Florida. Her ancestors had hidden in Florida swamps to escape President Andrew Jackson's "Trail of Tears," which forced Native Americans from their ancestral lands into Oklahoma. She and her family moved to the Pittsburgh area, and she graduated from Perry High School. She was instrumental in helping to form the Council of Three Rivers American Indian Center, starting in 1969. In 1979, she organized the Council's first pow-wow, which has since become an annual showcase of Native American art, crafts, food, demonstrations, and dancing. She herself was a dancer and a skilled maker of regalia, specializing in beading.
Daisy Lampkin
Marie Malagreca retired from USWA (currently known as USW – United Steelworkers) in 1994 after 47 years of service to the union. Marie served as a secretary in the union staff office in Etna, Pa., was promoted to a servicing staff representative and was asked by International President Lynn R. Williams to be the first Coordinator of a new program called SOAR (Steelworkers Organization of Active Retirees). She served in that capacity from 1985 until she retired in 1994. Marie has been a union and political activist her entire life. After retiring from the Steelworkers she became active in the former National Council of Senior Citizens and is a founding member of the Alliance for Retired Americans and served on their Executive Board for many years. Much of what SOAR does today had its foundation established under Marie's leadership. From the very beginning she worked to fulfill President Williams' vision to mobilize our union's retirees to support legislative policies that improved their quality of life.
Anne Pride was a feminist, activist and a philanthropist who dedicated her life to reproductive justice and ending sexual assault and domestic partner violence.
During her lifetime, she served on the National Organization of Women's board of directors and as the editor of the organization's KNOW national newspaper. She fought for reproductive justice as the executive director of Women's Health Services and at BirthPlace, an alternative birth center. She set the precedent for victim confidentiality in her work as the first director of Pittsburgh Action Against Rape (located on the South Side)(PAAR) by refusing to disclose notes from private counseling sessions. She also coined the phrase "take back the night," which has become a national movement for young women to reclaim their freedom and independence in the face of sexual violence.
After Pride died of ovarian cancer in 1990, her longtime partner Paulette J. Balogh, with whom she founded Motheroot Writers' Guild to publish works by female writers, set up the Anne Pride Memorial Fund to continue Pride's legacy of supporting and empowering women. Balogh herself was a lawyer and served on the Board of Directors for Rainbow Kitchen Community Services and the YWCA of Greater Pittsburgh.
Pride and Balogh, two women who strived all their lives to lift up the women around them, continue to impact the Pittsburgh community through this fund, which is set up to support local organizations, like PAAR and the YWCA, that empower women to live full, meaningful, and in-turn, altruistic, lives.
She did all of this with pride. Anne was proud to support women when even speaking about issues of sexual assault, birth control, and women's empowerment was taboo, so much so, that when, at the end of her marriage to Edwin Kurlfink, Pride wanted to change her name back to her maiden name, her father told her not to. The local and national press followed Pride's activism, and her name showed up rather frequently, always associated with her activist work and her father did not want the family association. Left with a name from her ex-husband that she would not keep and a birth name she could not reclaim, Anne chose to name herself after the thing that nobody could take from her.
Transmissions by Lucille– starred in the star of "Lucille's Car Care Clinic," a cable show on the Home and Garden Television Network. The show was broadcast in 714 cities. Her book, "Lucille's Car Care" She went into business for herself in 1973. She prefers the term "diagnostician" for herself, and calls the 21 men in her repair crew "automotive technicians- "Years ago, a divorced woman with children was persona non grata here, in Pittsburgh," she recalls. "Some neighbors didn't want their children to play with mine because they were from a broken home. That's how bad it was."
But from the moment she opened her business, the Pittsburgh newspapers and a local television station were very friendly. Mrs. Treganowan's story — a woman trying to make it in a down-and-dirty man's world — had all the drama of a soap opera. She had no money for advertising, so she quickly mastered the art of self-promotion.
Lois Weber (June 13, 1879 – November 13, 1939) was an American silent film actress, screenwriter, producer, and director, who is considered "the most important female director the American film industry has known", and "one of the most important and prolific film directors in the era of silent films
809 Liberty Ave, Pittsburgh, PA 15222 (412) 681-5449 (Harris Theater)
2nd Annual Women's History Scavenger Hunt
AUGUST 25, 2018
Start here =>> CLUE #1 All responses must be IN ALL CAPS.
Please take pictures at the following stops and post them on Facebook – Stops 1,3 and 9. (Pic at 60).
If you need assistance, please contact Anna Marie at 412-334-7749.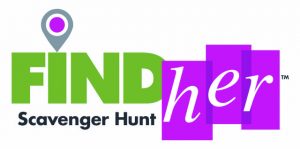 Pittsburgh is rich with inspirational stories of women in the arts, business, sciences, politics and sports, as well as women in the civil and women's rights movements and humanitarian efforts. We will learn more about pioneering women with this city-wide and online Women's History Scavenger Hunt.
FindHer will be a competition for the enjoyment and education of the participants with prizes and recognition. Scavenger Hunt teams or individuals will race across Downtown Pittsburgh finding hidden objects, historical markers, public art and even current women leaders who will reveal answers to clues!
A prize for the winning team and a chance to connect with people who share your interest in history.
Check back for details here and on Facebook and Twitter where information will be posted.