This week's Pet of the Week is Maraschino Here's a bit about her: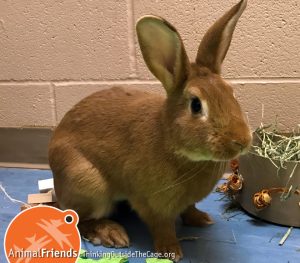 Meet Maraschino! He's a lovable rabbit looking to find a calmer home where he can kick back and relax. Maraschino is a bit shy at first, but once he has time to settle in he is a very sweet little guy who loves to receive head rubs from his family. Maraschino may even like having a bunny friend in his new home – our Adoption team will help you with a meet and greet beforehand.
Does Maraschino sound like the perfect addition to your family? Stop by Animal Friends to meet him or contact our Adoption team at 412.847.7002 or AdoptionInfo@ThinkingOutsideTheCage.org.
www.ThinkingOutsideTheCage.org
Animal Friends, Caryl Gates Gluck Resource Center
562 Camp Horne Road, Pittsburgh, PA  15237
412-847-7000 (phone) 412-847-7001 (fax)