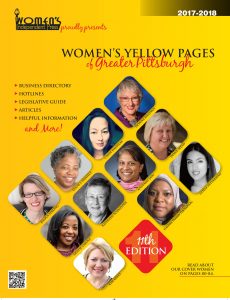 Invest your advertising $$ where they work.
The Women's Yellow Pages—a Southwestern PA print and an on-line directory of Women-Owned, Women-Centered Businesses and organizations— is a trusted resource for individuals and companies that support women-owned companies; do business with women-owned businesses and market to women.
Benefits of Advertising in Women's Yellow Pages
¨ Distribution reaches over 100,000 readers throughout Allegheny, Westmoreland, Washington, Beaver, and Indiana counties every year
¨ Over 300 companies continue to CHOOSE WOMEN'S YELLOW  PAGES as part of their yearly advertising/marketing campaign.
¨ FULL YEAR EXPOSURE also available in e-zine monthly and via social media.
¨ FREE TO PUBLIC THROUGH Chambers of Commerce, colleges, and universities, women's organizations, independent bookstores,  public libraries, SBA, SCORE, some Giant Eagle stores as well as other independent grocery stores.
¨ Affordable advertising rates available.
MEDIA  INFORMATION:  NOW ACCEPTING ADVERTISING FOR Late Summer 2018 DISTRIBUTION
12Th EDITION RATES   Include Print and On-Line Directory for One Year
Display Ads
Full Page: 7.25" (W) x 9.25 " (H)
                         Black & White:                      $1,645
                         4 Color:                                    $1,795
Half Page:  7.25" (W) x 4.5" (H)
BEST               Black & White:                      $1,095
VALUE           4 Color:                                    $1,245
Third Page:  7.25" (W) x 3" (H)
                         Black & White:                      $845
                         4 Color:                                    $995
Sixth Page:  4.5" (W) x 3" (H)
Black and White:  $595
4 Color:  $745
Business Card: 3.5" (W) x 2" (H)
Black & White:  $265
4 Color:  $365
Inside front cover:  $2,195.00
Inside back cover:   $2,000.00
Back cover:              $2,295.00
Ads will be accepted in JPEG or PDF format. Articles should be submitted via a word document.   
BONUS OPPORTUNITIES
Business Listing – 50-word description of your business FREE with display ads
Listing Only – 50 words or less, print and online $95.00
Five- line special listing – $50
Sponsorship Packages available
 50% deposit required to reserve space.
To reserve your space in 2018/2019 Women's Yellow Pages 13th Edition contact:
Anna Marie @
412-563-6712
wip@fastmail.fm
To reserve your space in the 2018/2019 WYP, contact:
Anna Marie @ 412-563-6712
50% deposit required to save your space.